Book (Pre-print)
"Signal Recovery" , Ivan Rech,Giulia Acconcia.
The book is intended as study support for students attending the course. Its structure follows the lessons' schedule; supplementary material within the text is identified with a lateral bar.
This is the first edition of the book: every suggestion provided by the reader is more than welcome.
The book can be downloaded here.
© 2022 Ivan Rech, Giulia Acconcia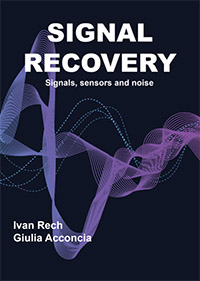 Application Notes
Application note about Boxcar Averager can be found here
Application notes about Lock-in and scientific instruments in general can be found here

Compendium of technical information related to the application of strain gages, installation accessories and instruments in the making of precision strain measurements: here

Datasheets